Vincent d'Indy
By Don Robertson

Background

The importance and magnitude of the artistic movement that took place in France during the last decades of the 19th Century cannot be denied. It created a transformation in the evolution of art, poetry and music.
To better grasp what was taking place in France at this time, it is necessary to understand the influence that the music and writings of Richard Wagner had upon many young creative artists living and working in Paris. The first performance of Wagner's revolutionary work Tannhaüser that took place in Paris in 1861 created such a scandal among the entrenched establishment that another Wagner music drama would not be staged in Paris until 1887 (a performance of Lohengrin directed by Charles Lamoureux, with the help of Vincent d'Indy). Despite the lack of a French Wagnerian staging for twenty-six years, French artists, composers, and poets listened to piano reductions of Wagner's music and consumed his writings.


The world premiere of Wagner's fifteen-hour-long ring cycle took place in his new theater in Bayreuth, Germany in August 1876, and a handful of French composers made pilgrimages to this almost holy shrine. Upon returning, they talked and wrote profusely about what had taken place; Saint-Saëns, for example, wrote five articles about the Bayreuth experience and Catulle Mendès three. A few years after, concerts of Wagner's music began to take place in Paris. Those at the Eden Theater, conducted by Charles Lamoureux, resembled holy services, to which painters like Blanche and Valloton, poets and writers such as Mallarmé and Proust, and many musicians and composers flocked.


By the mid-1880s, the music and thinking of the now-deceased Wagner had ignited nearly the entire intellectual and artistic movement in Paris, including the most distinguished and the most gifted artists, writers, and composers. Some, in addition to attending the Eden Theater concerts, made pilgrimages to Bayreuth. The effect of Wagner's music was deeply felt. Ravel and Chabrier had similar experiences during performances of the prelude to Tristan und Isolde: the music so moved them that they broke into tears and sobbed. Composer Guillaume Lekeu fainted during an 1889 Bayreuth performance, and Vincent d'Indy broke down and wept while experiencing the death of Siegfied in Götterdamerung.


Wagner's influence on French music was overwhelming. Testimony to this were Wagnerian-inspired music dramas, including Debussy's Pelléas et Mélisande, Bruneau's Le Rêve, Chapentier's Louise, Reyer's Sigurd, Chausson's Le Roi Arthus, and d'Indy's Fervaal. Additionally, composers such as Franck, Gounod, Lekeu, Bizet, Massenet, Saint-Saëns, Duparc, Fauré, Delibes, and Ravel were all inspired by Wagner, as well as the poets and writers Villiers de l'Isle-Adam, LaForgue (who influenced Eliot and Pound), Valéry, Colette, Dujardin, de Nerval, Gautier, Mallarmé, Proust, Verlaine, Ghil, Baudelaire, Morice, and Vignier. Among painters were Blanche, Valloton, Gauguin, Cézanne, Bazille, Fantin-Latour, Whistler, and Doré.

Vincent d'Indy

Vincent d'Indy (1851-1931) is an important, but perhaps not a great, composer who, unfortunately for contemporary ears, has fallen into near obscurity. A single work, the beautiful Symphonie Cévenole (Symphony on a French Mountain Air), identifies the composer today. He was born and raised in Paris, and at an early age began preparing for a career in music. In 1872, he enrolled in Cesar Franck's organ class at the Conservatoire, and soon Franck, who taught a group of young French composers at his home, became d'Indy's mentor and composition teacher. D'Indy recognized the genius of the man that many at the Conservatoire considered only an organ teacher.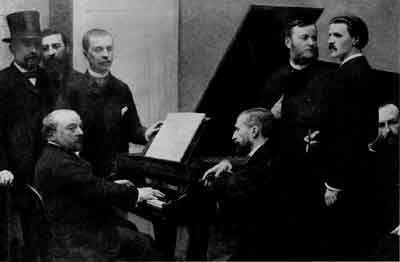 "Autour du piano" painting by Henri Latour, 1885
Musée d'Orsay
Emmanuel Chabrier at the piano.
From left to right : Adolphe Jullien (critic), Boisseau (violinist at the Opera),
Camille Benoit (art historian), Edmond Maitre (érudit), Lascoux (magistrat),
Vincent d'Indy, A. Bigeon (romancier et critique)

During the great artistic revival that took place in Paris during the second half of the 19th century when "impressionist" painting, new music, and symbolist poetry came into the world, composers, painters, and poets alike gathered together to discuss and share art. It was at meetings such as the soirées that Chausson, Saint-Saens, and the poet Mallarmé held weekly in their homes, that some of the greatest creative minds of the time (such as Degas, Monet, Renoir, Rodin, Franck, Gide, Fauré, Duparc, d'Indy, Debussy and Chabrier) discussed art and music.
In addition to his great admiration for Wagner, d'Indy had, as had Wagner himself, discovered and developed a tremendous love for the sacred music of the great composers of the 16th century--Gallus, Lassus, Palestrina, Josquin des Pres, and Victoria--and for Gregorian chant: a forgotten body of work that constitutes one of the greatest outpourings of music the world has produced. Beginning in 1890, d'Indy, realizing this, began working with fellow Franck student Charles Bordes, on what became the center of a powerful revival of sixteenth-century sacred music in Paris. In the following year, d'Indy helped form the Société des Chanteurs de Saint-Gervais to help restore this great music to what he felt was its rightful place in society. Members of Paris's artistic community, including Debussy and Mallarmé who were regulars, frequented the Société's concerts of the music of Gallus, Palestrina, and Victoria.
The Three Founders of the Schola Cantorum
in 1894 :


Charles Bordes,
Alexandre Guilmant
et Vincent d'Indy.
D'Indy's musicial interests distanced him from the formal instruction that was being served at the Conservatoire, and in 1896, in conjunction with Bordes and Guilmant, he founded a new music school, the Schola Cantorum, becoming its first director. The mission of the Schola was to forge a return to the tradition of Gregorian chant and music in the style of Palestrina, with new music inspired by these traditions, and to reform the system of music education then in place in French schools. D'Indy wrote a complete course of composition that started with Gregorian chant and continued historically through to the music of the composers of his time, as d'Indy was in complete support of both Debussy and Ravel. D'Indy remained the director of the Schola Cantorum until his death in 1931. The Schola remains today a highly regarded institution and has trained many composers and musicians, beginning with d'Indy's own students, Roussel and Satie, and including, among others, Albeniz, Canteloube, Célibidache, Duruflé, Gulmant, Landowska, Langlais, Messiaen, Milhaud, Turina, Varese and Vierne.
While many composers followed Arnold Schönberg on the road to discordant harmonies and atonality, some did not. Among the detractors was Vincent d'Indy. According to Andrew Thomson, in his book Vincent d'Indy and His World, d'Indy called Schönberg "a madman who teaches nothing except that you should write everything that comes into your head...His work..is no more than a mass of meaningless notes." On another occasion, Honegger suggested to d'Indy that Schoenberg's music was to be read, rather than to be heard, to which d'Indy replied: "These noises don't interest me on paper any more than they do in the atmosphere." He had no sympathy for discordant music. He considered "modernist" Edgard Varese, who was a student at the Schola Cantorum, a dishonor to the teaching of the school.
But now that the discordant storm clouds of twentieth century music have passed and a new century has arrived, orchestras and lovers of great music are looking for new music, and as interest grows in the work of some of the composers whose recognition was lost in the confusion of atonality, Vincent d'Indy begins to surface on radar screens. 21st Century concert halls are due for a reform, and first in line should be the works of Cesar Franck and the group of composers that he nurtured, the most important being Ernest Chausson, Vincent d'Indy and Henri DuParc.
© 2005 by Rising World Entertainment
DoveSong Articles
Analysis of d'Indy Symphonic Works
by Don Robertson
Jour d'été à la Montagne

An analysis by Don Robertson
Souvenirs

An analysis by Don Robertson
Istar

An analysis by Don Robertson
Tableau de Voyage

An analysis by Don Robertson
Web Sites
Biography (en francais)

D'Indy Website
Great bio and catalogue des oeuvres (francais)
Selected Compositions
Various orchestral works

Symphony on a Mountain Air and Symphony No. 2

Symphony No. #3 and two symphonic works

Diptyque Méditarranéen
Books about d'Indy
Vincent d'Indy and His World
by Andrew Thomson
Vincent d'Indy
by Norman Demuth
Vincent d'Indy
by Leon Vallas
Champion of Classicism
by Norman Demuth
Books by d'Indy
Beethoven, par Vincent d'Indy
Librarie Renouard, 1911
Wagner, par Vincent d'Indy
Librarie Delagrave, 1930
César Franck by Vincent d'Indy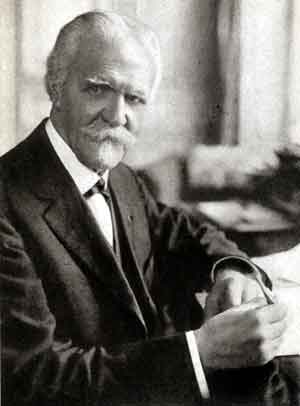 d'Indy in 1931
En musique, l'agent principal de l'oeuvre est ce que nous appelons thème ou idée. On peut en donner la définition suivante: l'idée musicale est constituée au moyen d'éléments sonores, fournis par l'imagination, choisis par le coeur, mis en ordre par l'intelligence.
From the book "Beethoven"
by Vincent d'Indy