The DoveSong
Archives
The Text Library


Positive Music
About
Papers/Articles
Movement (2004)
Links


Through the Centuries
Overview
Gregorian Chant
15th Century
16th Century
17th Century
18th Century
19th Century
20th Century
21st Century


Gospel Music
Black Gospel
Mountain Gospel
Southern Gospel


World Music
Chinese Music
Indian Music
Persian Music


Popular Music
The MP3 Library
(no longer operational)


Western Classical
Plainsong (Chant)
Renaissance
Baroque
Romantic


Gospel Music
Mountain Gospel
Black Gospel
Southern Gospel


World Music
India
China
Middle East
Persia


Pop/Folk/Country/Jazz
Antonín Dvorák (1841-1904)

This Czech composer wrote a number of beautiful compositions. He was born in Bohemia on September 8, 1841. He was the son of an inn-keeper who wanted him to be a butcher. But Dvorák learned the violin from his schoolmaster and then earned his livelihood as a violinist in a small orchestra until he became a viola player with the National Theater. When he was 33, he wrote a hymn for male chorus and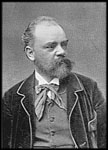 orchestra. This work attracted so much attention that he began receiving a government stipend. He later moved to Prague where he died on May 1, 1904.
Dvorak wrote some beautiful and important works. In 1892 he visited America where he was fascinated by native American culture. In New York, he heard the singing of negro spirituals, then called slave melodies. He told the New York Herald in May 1893 that they were the necessary foundation for the future music of the country.
"In the slave melodies of America I discover all that is needed for a great and noble school of music. They are pathetic, tender, passionate, melancholy, solemn, religius, bold, merry, gay or what you will. It is music that suits itself to any mood or any purpose. There is nothing in the whole range of compoition that cannot be supplied with themes from this source." And he was the first to follow this advice when on December 16, 1893 his New World symphony was premiered at the Carnegie Music Hall.

Selected Compositions on CD
The New World Symphony

Cello Concerto

The American String Quartet
Web Sites